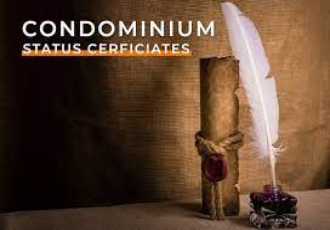 What is a Status Certificate?  Why is it Important for a Buyer?
When purchasing a condo, a status certificate is provided by the selling Realtor either prior to submitting an offer or it can be a condition in the Agreement of Purchase and Sale.
It is important to know that a condition of receiving a Status Certificate is not in the standard OREA agreement, so be sure you and your Realtor discuss this and add if you want to have the opportunity to review.   Also note, that lender's can also ask for the status certificate as a condition of getting your mortgage.
A status certificate as a comprehensive and lengthy document that provides information about the current state of a condominium property.  It provides potential buyers the overall health of the operation of the condo complex and will also include rules and regulations of the complex.  This can be very important in regards to pets and smoking policies.
The buyer can read the Status Certificate and its attachments, but is best to also have a lawyer review.  They are familiar with the complexities of this document and will be able to look for any red flags.
The lawyer will discuss the contents with the buyer so the buyer is aware of any possible planned fee increases, special assessments, or any lawsuits.
Always surround yourself with professionals who will guide and protect you through the process!