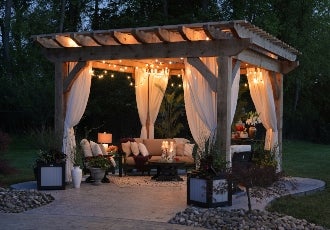 5 AMAZING BEFORE & AFTER OUTDOOR MAKEOVERS
The pandemic made it clear: we all want outdoor living space. We don't just want to walk to the park, we want to cook outdoors, relax outdoors, gather with friends and family outdoors, exercise outdoors and some people even want to work outdoors. And, we want that outdoor space to be part of our home. 

Get inspired to makeover your outdoor living spaces this year with these incredible before and after home projects.

Before: Unattractive View
The deck location on this home includes an unsightly view of the neighbour's backyard and dog pen. When you can't relocate a deck, try this simple project instead.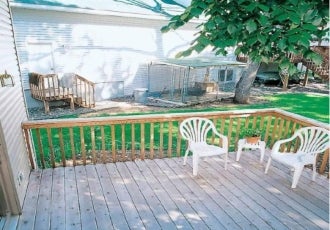 After: Perfect Private Hideaway
If you enjoy spending time on your deck but the neighbourhood pest seems to pop over every time you step outside, this privacy fence project is for you. It's designed to gracefully replace sections of your existing railing and make your deck more private. It also blocks unsightly views, reduces outdoor noise and gives you shelter from the wind, making your deck a more comfortable spot on those breezy days that usually drive you inside.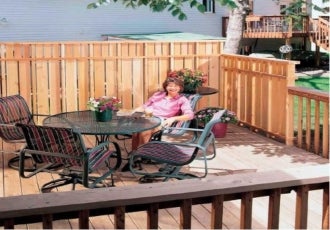 Before: No Place to Kick Back
If there are no areas to sit and relax or gather with friends, your backyard is just wasted space! Turn it into something special.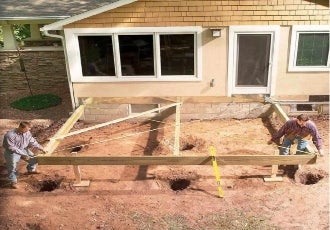 After: Space to Relax and Entertain
This deck isn't huge—about 16 ft. wide x 18 ft. deep plus bays and stairs—but it's big on features. The upper deck is just the right size for entertaining small groups—spacious but intimate. It has cantilevered nooks on both sides that provide space for seating and barbecue storage. The pergola shades the upper deck and the home's interior from the sun, and it offers a space for hanging or climbing plants. The lower deck is a great place to hang out in the sun, while the cascading stairs flow into the yard and provide lots of space for planters and pots.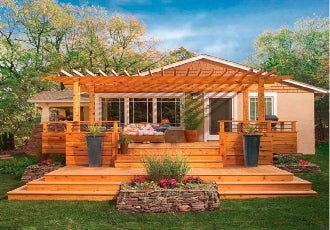 Before: Blah Deck Railing
We'll show you how to dress up a dull deck with a sturdy, handsome railing that provides a wide-open view.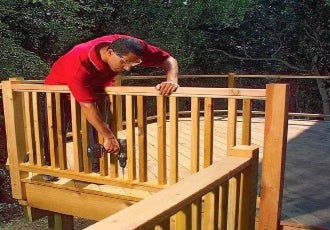 After: Safe, See-Through Deck Railing
The tinted glass in this deck railing is strong and safe, and it adds flair to your outdoor space.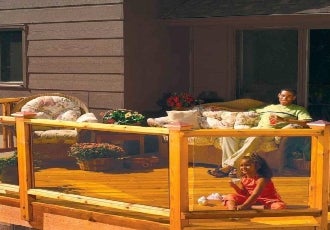 Before: Trampled Grass Walkway
Do you want to spruce up an ordinary, all-purpose sidewalk or patch of grass that's constantly walked on? If so, this project is a great eye-catching solution.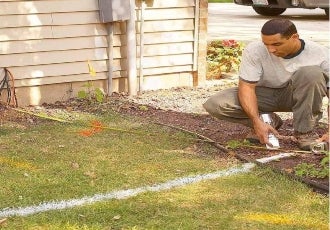 After: Heirloom Garden Pathway
Our project dresses up a space along the side of the house from the driveway to a service door. It also provides a firm, smooth surface for rolling a garden cart or wheelbarrow and keeps your feet out of the mud on a rainy day. Its width, a full 7 ft., allows enough room for a bench to kick off your boots, with plenty of space left over for potted plants.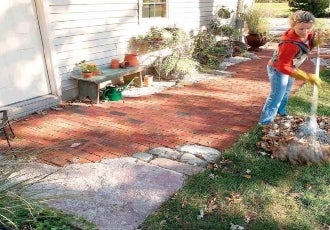 Before: Hot Paver Patio
Is your paver patio too hot to sit on for more than two minutes? Create a touch of shade by adding a pergola.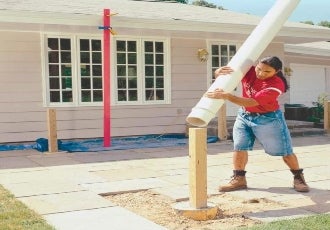 After: Pretty Pergola for a Hint of Shade
Build a vine-covered pergola in your backyard to shade a stone patio or wood deck using wood beams and lattice set on precast, classical-style columns. The dappled sunlight created by the overhead latticework creates a cool, relaxing environment perfect for backyard entertaining.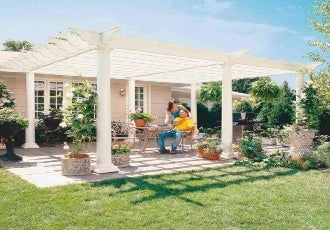 Article courtesy of Nick Gerhardt/Intro courtesy of Regina Cole/Title photo credit to Randy Fath