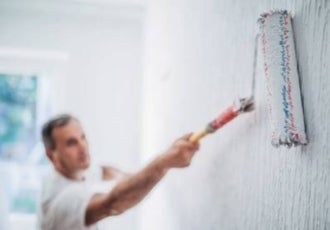 5 Simple Ways to Boost Your Home's Value
Wondering how to boost a home's value without investing too much money? You're in luck. There are many ways to increase your house's value without spending big or giving up too many weekends. If you're not sure where to begin, here are a few home improvement tips to implement before putting your house on the market.
Repainting your walls is a straightforward way to boost your home's value. It's also a project that almost anyone can take on, regardless of skill level or experience. You'll need a free afternoon, as well as paint, a paint roller, an extension pole, a paint tray, brushes, rags, sandpaper, and a putty knife to seal any cracks along the way. We also recommend using painter's tape to achieve clean edges and drop cloths to prevent paint from staining your floor.
Remember to paint your walls in colours that will be appealing to buyers. The safest bet is to choose a neutral shade that complements the space. Neutrals are the least likely hues to put off buyers; plus, they make it easier for buyers to envision themselves, their furniture, and their décor in your home.
2) Replace Your Front Door
First impressions are everything. If you have a front door that's falling apart, cracked, has chipped paint, or simply doesn't match your home's aesthetic, it may be time for an upgrade. Can't decide on a door? Iron and steel doors are the most secure, but wooden doors are very versatile and can be painted in different colours to suit your entrance-way. You really can't go wrong with either, but just make sure you measure your door frame and double-check your numbers before purchasing.
There's no substitute for a deep, thorough cleaning. If interested buyers come to your home and are forced to navigate boxes of your belongings or find dust all over the place, they could leave with a negative impression. If your home is cluttered or dirty, buyers can't always see its full potential. Help them see how beautiful your home can be by taking a weekend or two to downsize and scrub everything clean.
Can't find a way how to attract buyers? By changing your light fixtures, you can make your home more welcoming to buyers while also increasing its value. Dim light fixtures can give your space a dreary vibe or even make people feel claustrophobic. If you want to increase your home's value and attract more buyers, swapping out your light bulbs for something brighter and warmer can make a difference. You could even purchase entirely new light fixtures if you think your current ones are too outdated.
5) Put Time Into Landscaping
Your front lawn is the first thing potential buyers see, so why not put time into making it look beautiful? Keeping up with your mowing and weeding is critical to boosting your home's value and making a good impression on buyers. You can take things a step further by planting bright flowers on your property or purchasing potted plants to decorate your entrance-way.