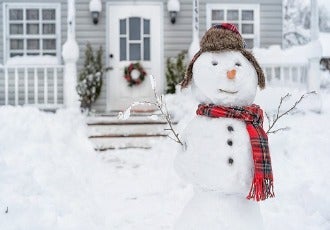 Top 10 Tips for Selling Your House in the Winter
The common notion that spring is a better time to sell than winter is being challenged by today's hot seller's market conditions. A recent Royal LePage survey found that 79% of real estate professionals say they would advise their clients to sell this winter, rather than wait until spring; significantly higher than the 64% who say they would have given that advice prior to the pandemic citing that current demand is outstripping supply in another year of unusual winter market activity.  If you are considering listing your home this winter season, be sure to review our top ten tips for preparing your home for a winter sale!
1.
Include both winter and summer photographs of your home in the listing so prospective buyers can better imagine themselves in the property all year round;
2.
Clear a path to the front door and pathways around the home. Make sure the walkway is free of snow and ice; 
3.
Turn up the heat in your home to a comfortable temperature;
4.
Seal up any drafts in windows and doors;
5.
Provide shoe covers or slippers, or lay down a large mat, so visitors don't leave your floors looking messy for the next appointment. Don't forget to remove winter boots and coats from your hall to make the area look bigger and so that visitors have a clear space to enter;
6.
Up your winter curb appeal: Upgrade your mailbox and house number; add winter floral arrangements with hearty outdoor perennial planters;
7.
As the days are shorter and it gets dark earlier, keep outdoor lights on during showings; 
8 .
Whenever possible, show your home during the daytime and let lots of natural light inside;
9.
Make the front door and entrance look warm and welcoming with seasonal decor;
10.
 Showcase how outdoor spaces can be enjoyed even in the colder months. Be sure to clear off outdoor furniture that can be used in winter.