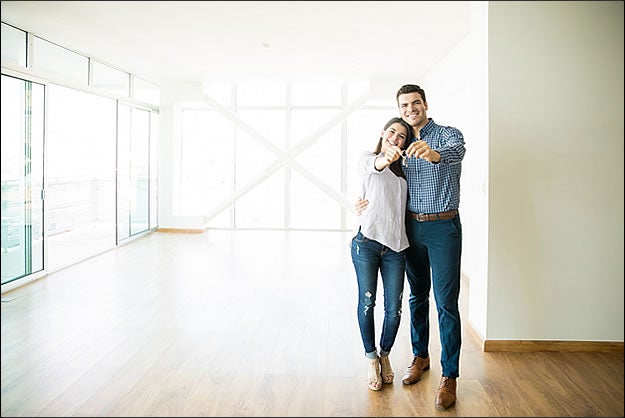 First Time Homebuyers Catch a Break With Slowing Home Price Growth
We have some good news and we have some bad news, prospective homebuyers in Canada.

First, the bad news: According to the latest Royal LePage House Price Survey, home price growth in many of Canada's real estate markets is slowing. This means, if you're looking to buy a home, its value may not grow as much as it has recently. The good news, however, is that this same slowing price growth presents a window of opportunity for first-time homebuyers to get while you can.
The price of a home in Canada increased just 2.7 per cent year-over-year to $621,575 in the first quarter of 2019, Royal LePage says, well below the long-term norm of approximately five per cent. When broken out by housing type, the median price of a two-storey home rose 2.6 per cent year-over-year to $729,553, while the median price of a bungalow rose 1.1 per cent to $513,497. Condominiums remained the fastest growing housing type, rising 5.4 per cent year-over-year to $447,260.

Looking ahead to the second quarter, Royal LePage expects national home prices to stay relatively flat throughout the 2019 spring market, with the national aggregate price of a home increasing just one per cent over the next three months. Meanwhile, the housing markets in several larger Canadian cities have shown noticeable signs of slowing, with nearly half of the regions in Royal LePage's Quarterly Forecast anticipating quarter-over-quarter price declines.
But these are national numbers, and as we've written before, there really is no such thing as a Canadian housing market.
But more on this later.

Silver lining

Early in 2018, Canada experienced the most significant housing correction since the 2008 financial crisis. Markets showed signs of recovery late in the year, yet the figures for early 2019 suggest that the market has once again slowed.
We are expecting this to be a sluggish year overall in Canada's residential real estate market, with the hangover from the 2018 market correction and weaker economic growth acting as a drag on home price appreciation, balanced by lower for longer interest rates," says Phil Soper, president and CEO, Royal LePage. "There is a silver lining here. This slowdown gives buyers, and first-time buyers in particular, an opportunity to buy real estate in our country's largest cities."
In the federal budget tabled by Finance Minister Bill Morneau in March, the Canadian government announced three new or enhanced housing programs. The First-Time Home Buyer Incentive is a three-year, $1.25-billion shared equity mortgage program whereby the Canadian Mortgage and Housing Corp. (CMHC) will co-invest up to five per cent of the purchase price of an existing home. Further, for the first time in a decade, there was an increase in the registered retirement savings plan withdrawal limits in the Home Buyers Plan. The increase, from $25,000 to $35,000, was the largest since the program's inception in 1992. Finally, an additional $10 billion in financing over nine years was earmarked for the construction of purpose-built rental housing.

Real estate is local

Illustrating our point that real estate is local and not national, the GTA housing market is still showing healthy growth.
"The city of Toronto is still one of Canada's fastest appreciating real estate markets," says Soper. "Detached home prices are rising in line with inflation, but condominium prices are increasing at near double-digit levels as vertical living has become the primary new-build option in this growing, world-class city."

Median home prices in Toronto rose 5.8 per cent year-over-year in the first quarter of 2019. Two-storey home prices and bungalow home prices rose 4.8 per cent and 2.5 per cent year-over-year, respectively, while condo prices rose 9.3 per cent year-over-year. The overall GTA's aggregate home price rose 3.4 per cent over the same period.

Real estate values in Ontario's Greater Golden Horseshoe region continued to appreciate at a brisk clip, as local economies grew and workers from the GTA looked to trade commuting time for lower house prices. Niagara-St. Catharines, Hamilton and Kitchener-Waterloo-Cambridge aggregate prices were up by 6.9 per cent, 6.3 per cent and 8.9 per cent, respectively.

 

Article by Wayne Karl